Break out of the workout rut.
Hard work doesn't always equal results, if you're not working out smart. A good trainer will give you just the right amount of push and motivation, and help you stay on track by creating customized workouts that are safe, focused and effective. Byproducts of a personal training regimen include: Lowered body fat, increased energy, flexibility, sound posture, muscle strength and agility and an expanded fitness knowledge.
Schedule a Free Personal Training Consultation
CLICK HERE to tell us a little about yourself. You will be contacted
by our Personal Training Manager within 24 hours.
Plan to be Fit? Schedule it.
Getting results takes commitment. To establish a solid routine, it's best to create a regular schedule that you can commit to.  To get started or learn more about our personal training, call us at 510-653-3539, or feel free to email any of our certified  trainers to schedule a first session.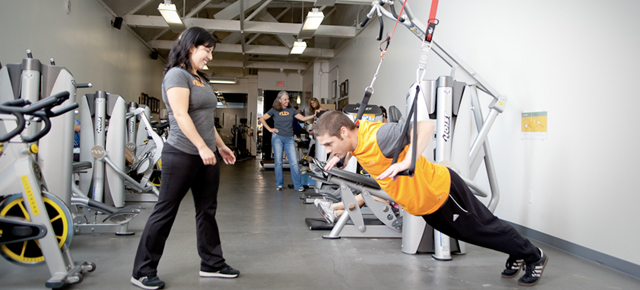 TRAINING METHODS
A starting point for a fitness program is based on the current fitness level of each individual and his/her goals. Our training methods tap into different phases of total body functional training that work to improve performance and achieve fitness goals.
Stabilization
Through flexibility and functional exercises we work to improve posture and biomechanics, taking into account previous injuries or limitations. As always there is an emphases on proper form, technique and core strength.
Strength
We incorporate strength endurance training, speed, agility and power. Workout intensity and exercises are tailored to one's goals and fitness level. As we progress you'll begin to learn new exercise techniques.
Performance
After a solid foundation of strength and mobility is established, we focus on fitness performance. This may include running faster, running longer, mastering skills for a specific sport or simply the ability to perform daily activities with greater ease.
Personal Training Rate Plans
FLEX Personal Training rate plans vary by instructor.  Learn more about our trainers here.