The FLEX Circuit…  FLEX offers 24 different stations that comprises its circuit training area.  You'll work every major muscle for 30 minutes to improve core, cardio and strength conditioning.
Cardio Room…  If you just like to get in a good sweat, try out our cardio room with plenty of elliptical trainers, treadmills, rowers and other machines.
Personal Fitness Area… Whether you like to work out solo or with a trainer, visit our training studio in the back to enhance your workout.  There you'll find lots of free weights, a bench/squat rack, TRX suspension area, BOSU, medicine balls, battle jump, step platforms, resistance bands, kettlebells, dumbbells and more.  It a great place to really do your own thing to get stronger and leaner.
Group X @ FLEX… FLEX members can choose from a full array of over 20 weekly group exercise classes both in person and virtual, including HIIT, Indoor Cycling, Boxing, TRX, Yoga, Pilates, Senior Fitness, Zumba and more in our dedicated group exercise studio.
Our space is well designed and super clean and the gym has a great community feel.   You'll find our trainers and staff to be really friendly and always ready to help you.  We pride ourselves on getting to know you better and doing it with a sense of humor.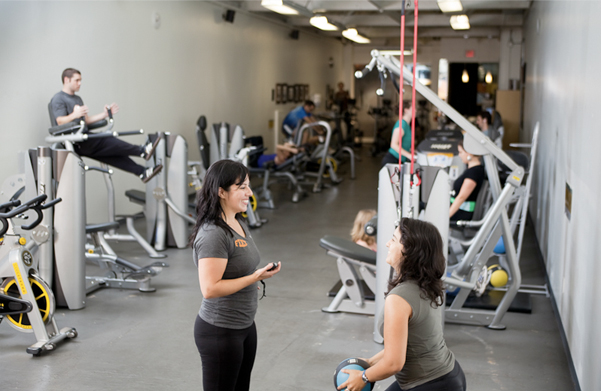 Our amenities break down:
1) The latest resistance and cardio equipment in our well designed circuit training area
2) Personal Fitness studio work out solo or with a trainer
3) A full schedule of group exercise classes
4) Personal attention and support from our friendly staff of circuit training experts