The FLEX Circuit…  FLEX offers 24 different stations that comprises its circuit workout.  It's designed for the time pressed, who are looking for maximum results in the shortest period of time.  The aim is to move from station to station in one minute intervals with minimal rest breaks in between.  When done correctly, you will have worked every major muscle group to improve core and cardio conditioning and overall strength.  Plus… you'll feel really good when you cross the finish line.
Cardio Room…  When you just need a really good sweat, try out our cardio room featuring the latest elliptical trainers, treadmills, rowers and stationary bikes.
Personal Fitness Area… Whether you like to work out with a trainer or go solo, check out our back training studio.  There you'll find plenty of free weights, a bench/squat rack, cable cross TRX, BOSU, boxing heavy bag, medicine balls, battle ropes, step platforms, resistance bands, kettle bells, dumbbells and a lot more.  It's a great place to really do your own thing in your quest for a stronger and leaner you.
Group X @ FLEX… FLEX members can choose from a full array of over 20 weekly group exercise classes.  In addition to in person classes, we offer a full array of virtual classes and class recordings to help you stay fit wherever you are in the world.  Our classes include Yoga, Pilates, Interval Training, Boxing, TRX, Yoga, Pilates, Senior Fitness, Zumba and more in our beautiful group exercise studio.  Try a class.
FREE Boot Camp…  Every Sunday, we offer a free boot camp class for our members.  Classes happen every Sunday at 9am on the Beach Elementary school playground.
Our space is well designed and super clean and the gym has a great community feel.   You'll find our trainers and staff to be extremely friendly and always happy to lend a hand.  We pride ourselves on getting to know you better and doing it with a sense of humor.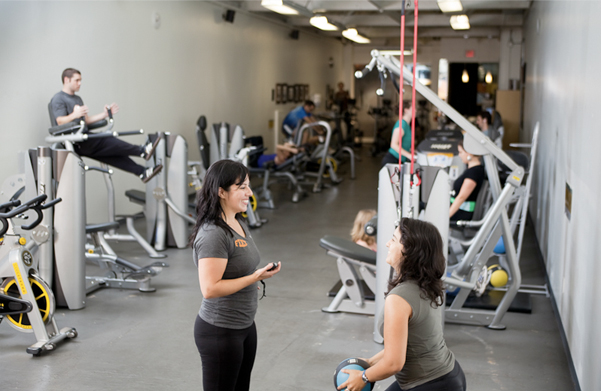 Our Service Recap:
1) Resistance and cardio equipment in our 24 station circuit training area.
2) Personal fitness studio to work out solo or with a trainer.
3) Dedicated space of cardio equipment (bikes, ellipticals, treadmills, stair climbers).
4) A full schedule of group exercise classes both virtual and in person
5) Personal attention and support from our friendly staff of circuit training experts