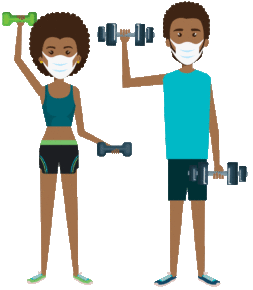 Covid-19 has changed our world and altered how we need to manage our surroundings. It is especially true in the gym environment. We at Flex understand the importance of safeguarding the health and well-being of our members and will make the necessary adjustments to ensure you get in a workout that is effective and safe. By now we have all gotten used to the "new normal", keeping social distance, washing hands frequently and wearing face coverings. Now with the state's all clear for gyms, lets apply those habits to your gym visits and help keep each other safe. We can definitely do this!
---
Reducing Touch Points and Risks…
We will be temporarily eliminating certain amenities you have come to expect at Flex, including our water fountain, towel service, lock lending and showers. Our locker rooms will be limited to one person in the men's locker room, and two in the women's.
---
Member Guidelines and Responsibilities…
This is what you need to do when you next come to Flex:
Wear face coverings. We will supply you one if you forget yours. We know it is not easy breathing with masks on, but here are some mask options that enhance greater breathability for working out.
Wash hands thoroughly before and after your workouts, and use hand sanitizer as needed.
Bring your own water bottle.
Bring your own yoga mat.
Wipe down weights before and after use.
Keep at least 6 feet whenever possible between yourself and other members/Flex staff or instructors.
Clean machines and stations with Flex provided solutions before and after use. Bottles will be supplied throughout the gym.
Stay within marked zones (circles) in the group exercise studio during classes.
Stay home if you have a fever or other symptoms, or have been in contact with others who have.
Until further notice, we are adhering to statewide capacity restrictions. To ensure your workout time/day, we have instituted an online workout appointment system so you can schedule workouts. Click on this link.
---
FLEX Guidelines and Responsibilities…
At Flex, here are some of the ways we will keep our gym safe for your workouts:
Continuous cleaning and the disinfecting of high contact surfaces, equipment, free weights, machines and stations with hospital grade cleaners.
Enforce social distancing and make sure everyone is wearing face coverings.
Monitor occupancy levels to make sure there is adequate distance between members.
Keep the gym ventilated with fans, air conditioning and open doors.
Plexiglass barrier between members and staff.