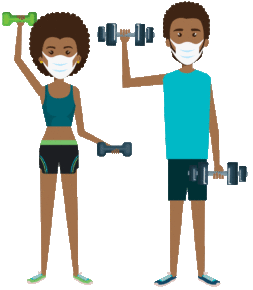 Currently the State has ordered that both fully vaccinated and unvaccinated people have to wear masks in all indoor settings, including gyms. Though this is a slight setback, vaccination rates continue to go up and we hope we soon will be able to workout without masks. We will update this page as we receive new instructions from State and County authorities which are ongoing.
---
Reducing Touch Points and Risks…
We have brought back some of our amenities such as free towel service and the use of the drinking areas, but continue to limit one person in the men's locker room and 2 in the womens'.
---
Member Guidelines and Responsibilities…
This is what you need to do when you next come to Flex:
Whether you are or are not vaccinated, you must wear a face covering. We will supply you one if you forget yours. 
Bring your own water bottle.
Wipe down weights before and after use.
If unvaccinated, keep at least 6 feet whenever possible between yourself and other members/Flex staff or instructors.
Clean machines and stations with Flex provided solutions before and after use. Bottles will be supplied throughout the gym.
Stay home if you have a fever or other symptoms, or have been in contact with others who have.
---
FLEX Guidelines and Responsibilities…
At Flex, here are some of the ways we will keep our gym safe for your workouts:
Continuous cleaning and the disinfecting of high contact surfaces, equipment, free weights, machines and stations with hospital grade cleaners.
Enforce mask wearing.
Keep the gym ventilated with fans, air conditioning and open doors. 
Plexiglass barrier between members and staff.