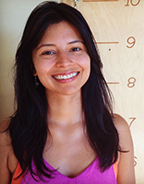 Amanda Smith
Amanda is a Pilates trainer and yoga teacher in the San Francisco Bay Area. After receiving her Bachelors in Urban Studies and Geography at Macalester College, she decided to move to the Bay Area to pursue her love of movement and teaching. As a Pilates instructor in Oakland, she worked alongside physical therapists for over five years, helping clients regain strength after rehabilitation. Pilates developed her attention to alignment, breathing, creating range of motion in all joints, and strengthening the body from the inside out. She transitioned easily into a deep and rich yoga practice, which she quickly realized was her true calling. Completing over 500 hours with seasoned San Francisco yogis, Rusty Wells and Stephanie Snyder, she has since co-lead her first yoga and Pilates retreat in Chacala, Mexico. Her passion is to create safe, challenging, and fulfilling yoga sessions that uplift, empower, and reconnect each person to his or her divine nature. She is so grateful to be teaching at Flex and to be able to share her love of Yoga and Pilates with you. Amanda teaches Pilates every Tuesday and Thursday @ 8am.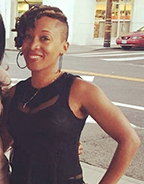 Carah Herring
Carah has taught Group Exercise classes for over a decade. Her love of fitness stems from her extensive dance background, which includes years of classical ballet, modern, African, tap, jazz and liturgical dance training. She currently teaches Zumba, Hip-Hop and Cardio Dance classes in gyms and studios across the East Bay. Her non-dance fitness classes include Body Sculpting, Core Blast, HIIT, Mat Pilates and Step (believe it or not, step still lives in a few gyms!!). Carah also served as the Group Exercise Coordinator at UC Berkeley's Recreational Sports Facility for nearly 5 years.
Before becoming a bona fide gym rat, Carah earned her bachelor's degree in Communication from Bennett College for Women (Greensboro, NC). She also completed her master's degree in Journalism from UC Berkeley. She enjoys traveling, watching documentaries and reading/contributing to personal finance blogs. Carah teaches Body Performance at 6:15am on Monday mornings.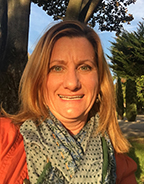 Clarice Cummings
Clarice is a wicked fun-loving physical therapist passionate about working with clients to reach their full potential. She chose physical therapy and sports training because it focuses on helping people to get well and stay well through education. She believes that when patients can visualize and understand how their bodies work they will reach their goals for rehab, sport and beyond.
Clarice's 20+ years experience as a physical therapist includes running her own physical therapy practice for six years, with lots of related coursework to maintain a strong knowledge base in the field and has received many accreditations.
Recently she began teaching fitness classes that focus on flexibility, core strength, balance and coordination which she believes are the building blocks for improvement in sport and prevention of injury.
Clarice loves keeping fit and challenging her body with spin classes, hiking with her golden retriever, doing gym workouts with friends, traveling with her husband and kids, cooking, and wine tasting. Clarice teaches Optimal Form & Fitness at 11am on Thursdays.
Erin Rabe
After receiving her NASM certification Erin worked as a personal trainer and group fitness instructor for a gym teaching high intensity group fitness classes that combined various amounts of cardio, strength and stretching/yoga in each workout. Upon moving to California, Erin started working for Orange Theory teaching high intensity group fitness classes as well as TRX at the Hills Swim and Tennis Club. Erin also subs various strength, conditioning and boot Camp style classes at the Hills. In the near future, Erin hopes to add yoga teacher training and nutrition to her list of certifications. In her free time, Erin enjoys rock climbing, mountain biking and obstacle course races such as the Spartan race or Battle Frogs. Erin teaches TRX Circuit at 6pm on Wednesdays and Strength Balance & Power at 11am on Sundays.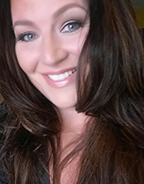 Heather Church
"Monkees to mashups, Nirvana to Rick James." That's not just Heather's worldview, but her playlist range as well. Combining her loves of cycling and music, Heather delivers something new each week, from eclectic playlists to new skills/drills, and Sunday morning trivia with prizes. She is committed to providing riders of all levels with challenging, fun, safe workouts. All are welcome to this party on a bike!
Heather is certified through Cycling Fusion, and when not in the gym, is an avid writer, artist, and Bay Area explorer. Heather teaches Power Cycle on Tuesdays at 6:15am and 6:30pm and PowerMix Cycle at 6:15am.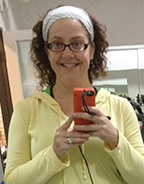 Jennifer Pesetsky
Jennifer brings her love of rhythm and music to her indoor cycling classes. She's a certified Mad Dog Athletics spinning instructor. Jennifer loves working with completely new riders, experienced riders, and everyone in between. Jennifer is a former French Horn and Mellophone player, and her musical past drives her love for music and rhythm. In her classes, you'll find a range of music with a beat; we'll end the class sweaty together! Jennifer lives in Berkeley with her husband and daughter. Her hobbies include hiking, sewing, making jewelry and knitting. Jennifer is a Law Librarian and a Professor at a Law School in San Francisco. Jennifer teaches cycling classes on Sundays at 8:30am and Mondays at 5:45pm.
Kathleen Kelly
Kathleen began her love for fitness programs back in 1980 with Jazzercise — which tells you right up front that this girl was not born yesterday! After retiring from her day job as the Chief Operating Officer at AC Transit, she decided to take fitness up as a part-time second career. She earned a personal training certification from the National Academy of Sports Medicine (NASM), and began teaching exercise classes that focus on a full-body workout. In 2013, she received a NASM Certification as a Senior Fitness Specialist, and began teaching a fitness class for active seniors. In addition to her fitness interests, she volunteers at a small elementary school in the Fruitvale District, where the kindergarteners always delight her, and has her own transportation consulting practice. Kathleen teaches 2 Senior Fitness classes on Monday's and Friday's.
Kellie Foy
Kellie Foy is a dancer originally from Cleveland, Ohio, trained primarily in classical ballet. She performed with California Ballet Company, State Ballet of Oregon, and State Street Ballet in Santa Barbara. She appeared as a guest artist and soloist with the Escuela Cubana de Ballet in Ensenada, Mexico, for three seasons. During this time she also appeared with City Ballet, San Diego. She is currently the director of San Francisco Youth Ballet. Kellie became licensed to teach ZUMBA in 2011 and is a popular instructor in San Francisco. Since 2011 she has also become licensed to teach Zumba Toning, Aqua Zumba, and STRONG, by Zumba.
She continues to cultivate her teaching skills and fitness education. Her goal is to blend music, dance and fitness for a great workout and to encourage and coach everyone whatever their fitness level. Kellie teaches Zumba at 9am on Fridays.
Lara Hermanson
Lara failed miserably at all team sports and ran a 18 minute mile in high school, which is slower than walking. It wasn't until she discovered yoga that she found a sport she felt at home in. Since then, she's completed her 200-hr teacher training at Black Dog Yoga in Los Angeles, and her Yoga Therapy certification at the White Lotus foundation in Santa Barbara. She completed her Spinning Instructor certification with Mad Dogg Athletics in 2015. Lara looks forward to helping you find your inner athlete, whatever that is! Lara teaches cycling classes on Wednesdays at 5:45pm and 10:15am on Saturdays.
Lauren Parker
Lauren is a spin instructor and writer in Oakland. After earning a Creative Writing degree from Hiram College, Lauren has been living an unconventional life.
As a bookish, giraffe-bodied child, Lauren played softball, took 4 dance classes, and completed half of a yoga class. Having been a terrible runner since childhood, she has always been an advocate for bikes, hence her devotion to indoor cycling. She is certified through Mad Dogg Athletics and is constantly expanding her wellness education.
The worst spin class she ever attended involved sprinting to She's Always a Woman by Billy Joel. She promises to never do this to you. In addition to spin, Lauren takes aerial circus classes, makes paltry attempts at running, and eats a lot of vegan food. Lauren teaches cycling classes on Mondays at 9:30am and Wednesdays at 6:15am.
You can learn more about her writing at www.laureneparker.com